The challenges faced by children with ADHD can make it difficult for parents, educators, and medical professionals to accurately diagnose and monitor the symptoms of the condition.
Until now, the only way to effectively manage ADHD has been through traditional methods such as medication, physical therapy, and behavioral modification. But now, there's a new hope for children with ADHD: the ADHD Support Watch.
The Brainwave Smartwatch is the perfect choice for parents who want to keep their child or teenager safe without having to constantly monitor them.
The watch is easy to use and comes with advanced features such as a secure clasp to make sure it doesn't get taken off, an SOS alert system, location tracking, and the ability to detect abnormal heart rates. Additionally, the watch uses MedicSignal technology to enable caregivers to set up automatic alerts that will prompt the user to swipe and confirm they are okay.
If they don't respond, an alert will be sent to designated caregivers so help can be sent quickly. With these features, Brainwave Smartwatch ensures that parents can have peace of mind that their child is safe and sound even when they are not around.
WHAT IS A BRAINWAVE Smartwatch?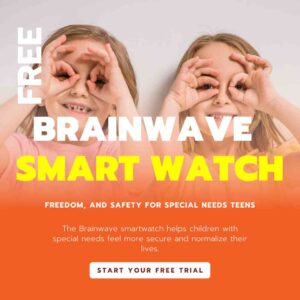 Brainwave is a revolutionary smartwatch designed specifically to help children with ADHD and other special needs kids. It is equipped with features that improve their security and well-being while providing love and care from any distance. Brainwave offers a variety of features and capabilities such as:
1. Transmits the wearer's location
Brainwave uses GPS to monitor the wearer's location, which is shared with designated contacts through the app. This enables parents and guardians to keep track of their special-needs child even when they are away from home.
2. Detects abnormal heart rates
Brainwave utilizes advanced heart rate monitoring to detect when the wearer's heart rate is abnormally high or low. This alerts parents and guardians so that they can take the necessary steps to address any potential health issues.
3. Detects when the wearer is in a moving car
The Brainwave watch is equipped with an accelerometer that can detect when the wearer is in a moving car. This feature helps parents ensure that their child is safe while in a vehicle.
4. Allows voice calls
With Brainwave, users can make voice calls to pre-approved contacts through the watch. This enables parents to stay in touch with their special-needs child even when they are not together.
5. Sends SOS alerts
If the user is in danger, they can activate the SOS alert to notify all designated contacts of their location and the situation. This helps parents and guardians respond promptly to any situation.
6. Has a secure clasp that ensures it won't be taken off
The Brainwave Smartwatch has a secure clasp that ensures it won't be taken off. This prevents the child from taking off the watch without permission and potentially getting into dangerous situations.
The Brainwave smartwatch is a revolutionary device that provides a sense of security and peace of mind to both parents and children with ADHD. By using the features of the watch, parents can easily monitor their children and ensure they stay safe at all times.
More Autonomy, More Safety
An ADHD watch offers parents a unique way to keep their children with ADHD safe without being overbearing. Offering a combination of safety and autonomy, the ADHD watch allows parents to program a safe zone, set an alarm to alert them when it is left, and track their child's location in real time if needed.
Unlike other tracking solutions, the ADHD Support watch is stylish and advanced. Children will be able to express their style, while parents can have peace of mind that their child is safe. The ADHD watch helps parents fulfill their duty to protect their children without restricting their independence.
.
Child-friendly smart monitoring
Child-friendly smart monitoring is one of the most revolutionary aspects of an ADHD watch. Designed with the child in mind, these devices are created to be as lightweight and comfortable as possible, with enjoyable features such as colorful bands and alerts that they can interact with.
Most importantly, these watches come with built-in Brainwave technology that monitors the child's focus and alertness levels, providing peace of mind to parents that their child is doing OK.
This feature allows parents to track their child's progress while helping the child learn to focus better. The result is that parents can allow their child to explore more independently, knowing that their child is in a safe and secure environment.
ADHD watches are revolutionizing the way parents monitor their children's well-being and are providing new hope for children with ADHD.
Peace Of Mind For Parents, Protection For Children
The ADHD watch by Brainwave gives parents peace of mind while offering children with ADHD the protection they need.
By wearing the device, children with ADHD remain safe while parents have the reassurance of being kept informed. The watch has several features that make it invaluable for families with special-needs children.
It is able to transmit the wearer's location, detect abnormal heart rates, detect when the wearer is in a moving car, allow voice calls, and send SOS alerts. Additionally, the watch has a secure clasp that ensures it won't be taken off. With the ADHD watch, parents can rest assured their child is safe and protected, while their child is supported and given independence.
Be there when you aren't there
The Brainwave ADHD watch has a number of safety features that make it ideal for children with ADHD and other special needs.
The patent-pending MedicSignal technology allows caregivers to schedule reminders for the wearer of the watch. When the reminder vibrates and prompts the user to swipe if the wearer does not respond an alert is sent to designated caregivers to warn them that help is needed.
Additionally, a real-time map indicating the wearer's location at the time of the alert is available. With these features, caregivers can rest assured that help will be on the way even if their child cannot respond.
Okay for Classroom and life outside
ADHD watches have revolutionized the way in which people with ADHD manage their condition. Not only do these watches provide helpful reminders for medication and activities, but they can also be worn in the classroom or other environments to track and manage the person's behavior.
In this way, the wearer can be more mindful of the activities they are engaging in and the reactions they are having, making them better able to manage their condition in the long term.
For example, the watch can sense when the wearer is feeling anxious or agitated and gently remind them to take a break or offer calming techniques. This can help to make classrooms and other areas of life outside the home more manageable for people with ADHD.
Start your free limited trial
Start your free trial with Brainwave today and experience the freedom and safety of your special needs teen. Enjoy peace of mind knowing your child is safe and sound at all times.